10. the sky is orange
thinking about impact beyond the academy and all my loved ones in the Bay Area
Hi there! 👋 I'm Ida, and this is tiny driver, a newsletter about research, pedagogy, culture and their intersections. Thank you for being here. Reply anytime, I love hearing from you.
This week's newsletter is going to be a bit shorter. Last week was a lot. With everything that's been happening in the world, it's a wonder that we are all getting anything done. This past week, it was a little more difficult for me to be present, so by the time the weekend came, I ran out of steam. I hope that next Monday I'll be able to write a bit more for you all, but I'm still excited by what's in this week's letter!
And to start it off, I have a very special announcement! I don't know if you heard, but...
Some Junior High Updates from my living room.⁠⠀
⁠⠀
These slides basically sum everything up but to reiterate: we are very close to securing a location! A landl*rd has approved our offer on a storefront in Glendale that has enough outdoor space to socially distance. HOWEVER — I'm very unfamiliar with Glendale and Glendale is probs unfamiliar with Junior High. So, I want to meet with Glendale PD to ensure we can exist symbiotically and never put our community in a space where police could cause harm. I essentially wanna ask "under what circumstances would you come to Junior High and how do we avoid those circumstances completely?"⁠⠀
⁠⠀
We hired Ida Yalzadeh, an American Studies Ph.D. from Brown University, to develop our anti-racism training and continue our longstanding police independence! Ida will come to Los Angeles for a long weekend and train our 2021 staff on deescalation/mediation, unconscious bias, and help formulate procedures that prioritize care and community.⁠⠀
⁠⠀
And we have an accountant! Wow. Can you believe I was doing everything by myself with no training hahahahah. We are going to set up a payroll and finalize our 2021 budget once we know what our rent will be. Hi, Claire.⁠⠀
⁠⠀
I just recorded a video of me mere hours after taking Xanax so I could sleep through my period cramps summarizing these updates but decided after much soul-searching it was simply UN-POSTABLE. That video shall perish along with my my monthly unfertilized egg. Doing my best 4 all of u!!!!!!! PLZ DONATE!!!!!!
More specifically: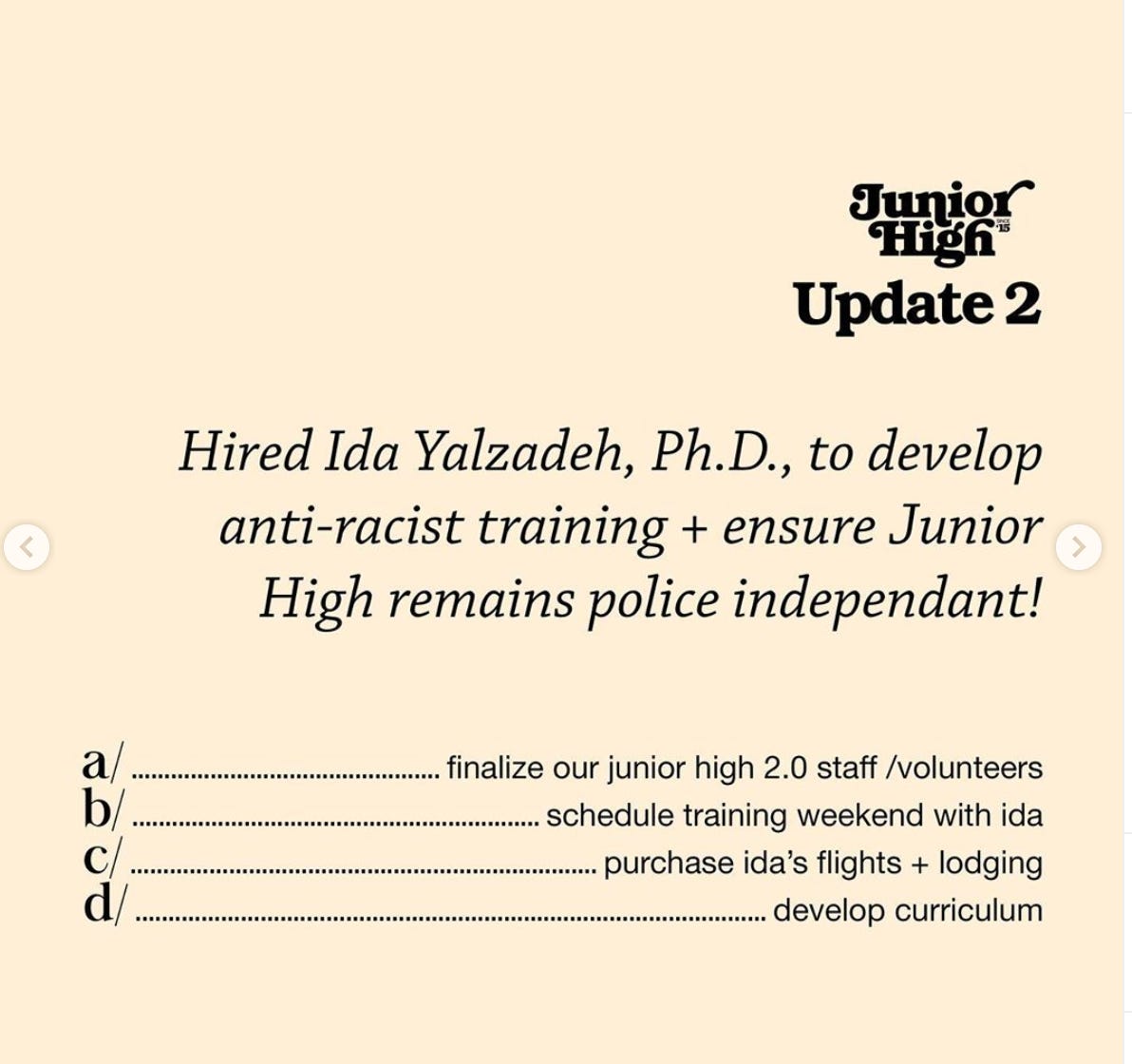 Over the past month or so, I've been in talks with Junior High LA about creating and facilitating a curriculum on anti-racism training for their staff and volunteers. I'm so happy to be given this opportunity to help an organization whose mission I really believe in. Throughout the fall, I'll be designing the curriculum for training staff in conflict mediation and de-escalation practices, as well as unconscious bias unlearning. The training will happen in Winter 2021, all things permitting.
Thanks so much to Junior High LA for working with me!
If you or anyone you know wants to hire me for DEI-type consulting work, feel free to direct them to this page on my consulting services!
What I write.
This week, I continued to learn how to turn a dissertation into a book & how to write a book proposal. I finished reading William Germano's From Dissertation to Book, which I think was helpful in conceptualizing the ways that I should orient my revision process. Specifically, it's helpful to pay attention to the following issues when turning the dissertation into a book: (1) audience, (2) voice, (3) structure, and (4) length.
Structure is something I think about a lot when planning how to revise my book, particularly with regard to the table of contents. One of the funny things is that as an interdisciplinary scholar that primarily uses historical methods, my narrative is chronological. You'd think this would then mean that my chapter structures would be easy to set up. But when I get into the subheadings, things get a little more prickly. There isn't a way right now that I see all the chapters being structured in similar ways when it comes to the way that I move through the narrative for each one. The only thing that is consistent, however, is that I begin each chapter with a close reading of an image that evokes the main issues I write about. I think that there needs to be more of a throughline when it comes to my chapter structures, but this is something I am still trying to work on.
What I consume.
In the Bookshop:
Currently Reading: The Dragons, The Giant, the Women: A Memoir by Wayétu Moore + Uncanny Valley by Anna Wiener
On Deck: Freshwater by Akwaeke Emezi
In a similar vein as last week's treatise on Selena + Chef, I watched some other food related programming. Specifically, I turned to Anthony Bourdain's Parts Unknown and Padma Lakshmi's Taste the Nation for a potential project that I may be collaborating on with a colleague. Have you watched either of these shows? What are your thoughts? Any good think pieces you've read about them? Let me know, either by replying to this email or leaving a comment!
Item(s) of note.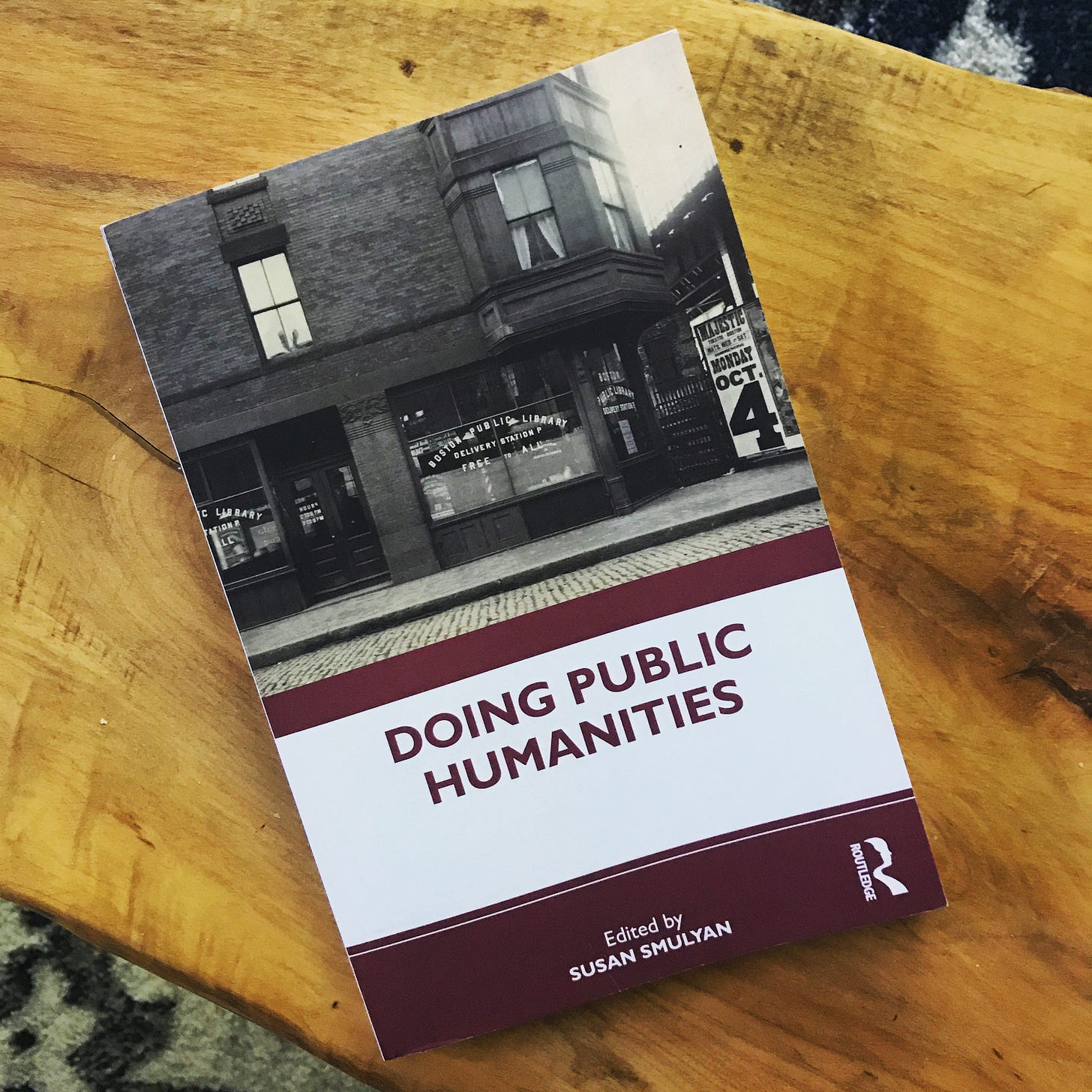 Photo Credit: Maggie G.
A pup-date.
Girlie + Higgins live in the Bay Area. And as many of you have probably seen on the internet or experienced first-hand, this week has been very scary with all the fires happening. The sky is orange, and Girlie and Higgins were only able to go outside for very short walks. This is Girlie sitting in the orange glow, and this image makes me feel sad. I hope that all the humans and animals that are in the Bay are safe soon. 💕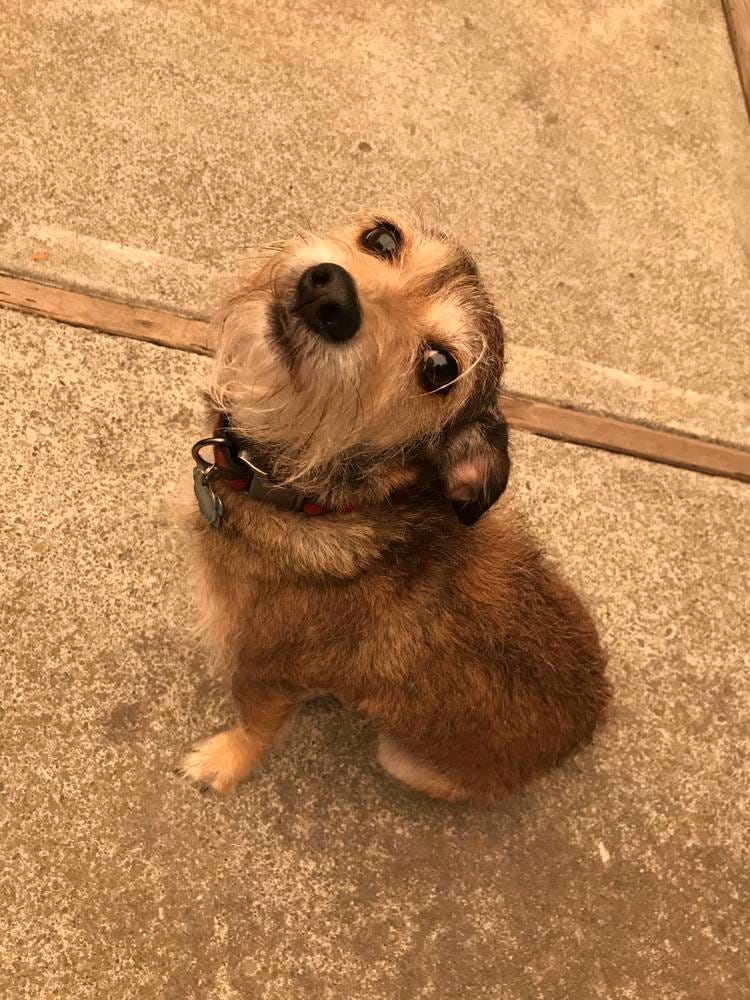 As always, thank you so much for reading through, and I'll see you in the next one.
Warmly,
Ida