Hi there! 👋 I'm Ida, and this is tiny driver, a newsletter about research, pedagogy, culture and their intersections. Thank you for being here. Reply anytime, I love hearing from you.
I can't believe we are at the start of another week, and things in the political realm are getting down to the wire. I'm sure that everyone reading this has been inundated with resources & calls to vote since mid-September. And I'm sure that those reading this are already well aware of its importance. So, instead, I wanted to start this week's letter off with this little critter:
What I teach.
Some exciting news: This year, I'll be participating in Northwestern's Undergraduate Research Assistant Program. I'll be working with an undergraduate research assistant who is majoring in History or Asian American Studies on the revisions for my book manuscript. One aspect of my manuscript that I definitely need to work on is the set-up and background context to my chapters. To that end, I'm hoping that a research assistant will be able to help me collect and work through the extensive newspaper databases to shape a background that then transitions into my larger narrative.
More than helping me with my revisions, though, this program is an opportunity for me to work one-on-one with a student in a direct mentorship capacity. Eligible students are in their first or second year of college, and have little (if any) research experience. And while this will require some work up front from me—collective meetings with subject librarians, weekly meetings, availability to answer troubleshooting questions—I am so excited to teach someone what it means to do historical research and facilitate their own explorations.
I remember the first time I discovered in college what doing historical research meant. I feel like I was a relatively late bloomer to academic research—I learned how to find a library book in the stacks during my second year of college (it wasn't even a book for me) and I learned what the word "archive" was my third year when I visited the one on campus for the first time. Although I had taken history classes, now looking back, many of them did not speak to the way in which history was produced—both in terms of methodology & the politics of knowledge production. So, I guess I didn't really learn what it actually meant to do historical research until I took my junior colloquium. In that class, I found out how so many of the monographs I read found the information that they talked about: Special Collections, finding aids, the fact that you can only use a pencil when looking at documents, folders, boxes, etc etc. So much of it was hidden from me.
And so much of what I learned in that colloquium was presented to me as obvious—as something I should have already known. This was discouraging. I remember writing words that I didn't know at the top of my notes to look them up after class. I remember going every week to office hours because I didn't know what a research paper should look like. I remember things taking longer for me to learn (or feeling like they did).
Often in graduate school, I thought about my time as an undergraduate student, and how difficult it had been to find support in a discipline of which I had no prior knowledge. I especially thought about this when I began TA-ing and seeing how faculty members at my graduate institution interacted with and advocated for their undergraduates to take on research projects. It would be even more heartening to see those same undergraduates from earlier on soon become my fellow grad student colleagues.
The value of mentorship is so real, especially when a student is just starting out. I have been lucky enough to see first-hand how important it is to give students interested in research the feeling that they are able to do this work—that their perspectives are needed in this work.
This is the underlying assumption that navigates my own mentorship practice; my goal is to have students realize that they—in their "being-in-the-wold"—bring a unique point of view to research relating to the humanities, and then give them the tools to carry out this work if they wish. My job as a mentor is to give them the space to practice with these tools and give feedback so they can work through their own conundrums. And I am so excited to do just that.
What has been something that's been important for you to have in a mentor? Substack asked a similar question here, but I'm wondering if the tiny driver community has any thoughts!
What I consume.
In the Bookshop:
Currently Reading: Good Talk by Mira Jacob
On Deck: Luster by Raven Leilani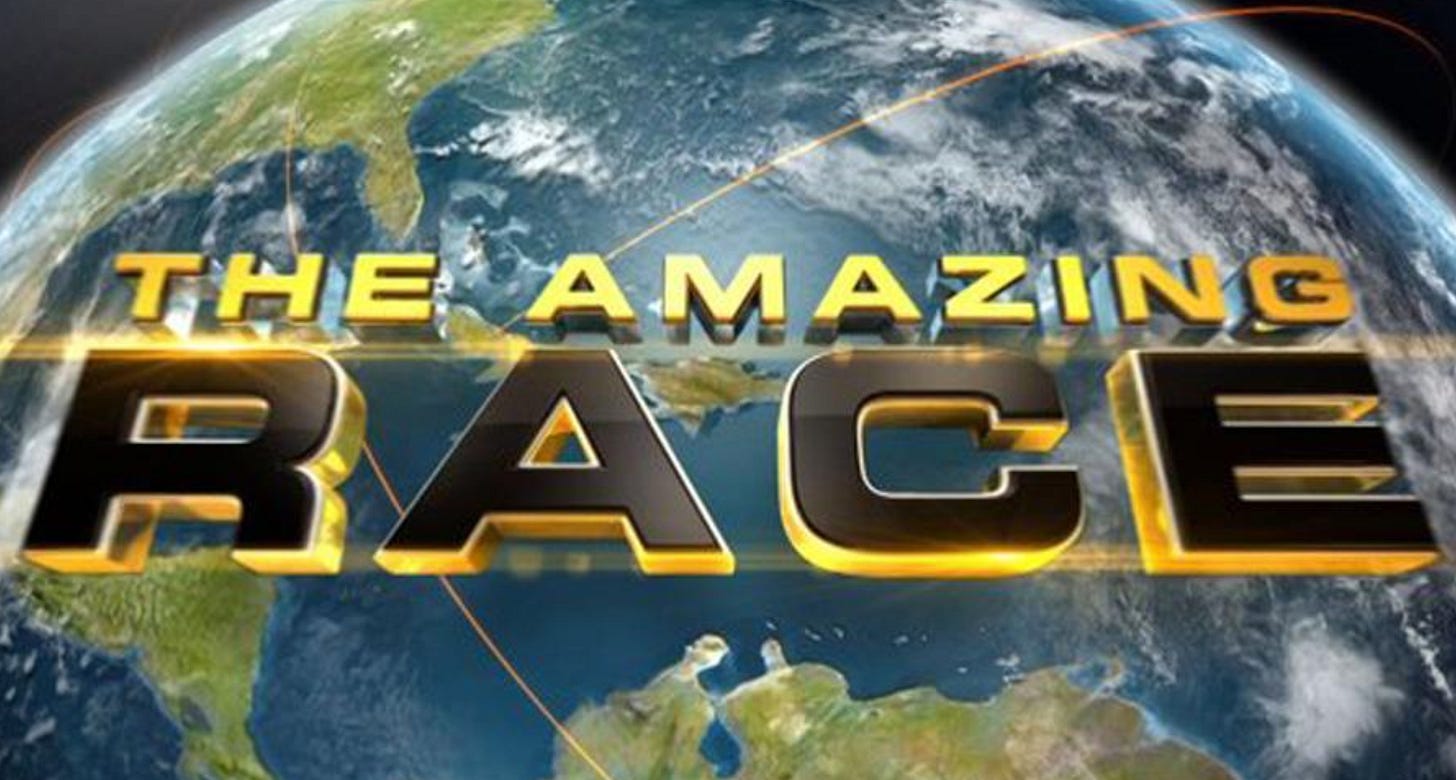 Mike & I recently started watching The Amazing Race because we found the entire series on Amazon. For those that are unfamiliar with the reality television show, it's a race all over the world between 11 teams of two people, all of them from the US, and the winners of the race get a million dollars. It's set up like a scavenger hunt; each country gives contestants different clues that take them to notable places in their country and have them perform tasks that have to do with the local culture (or something like it).
We started with Season 2, which originally aired in 2002. Having a bunch of Americans race (literally) through different countries, without taking time to appreciate the culture or the places they are looking at was...difficult. Seeing them yell at airline staff members, taxi drivers and locals was even harder. Observing the way in which they consumed and evaluated other countries with their own understanding of what is "suitable" or not was excruciating.
But I absolutely lost it about six episodes into the season when the teams were in Thailand and one man (Dave, I think?) decided to say the following after looking at the name of their next location:
I am upset that the British never took the time to colonize this place because nobody speaks English. How can you make anybody go fast if it takes 15 minutes to write one word?
I don't care if this was said in a "tongue-in-cheek" manner—honestly, it's probably worse that it was. How is it that this person can be so flippant about colonization and so entitled to think that the world should be shaped around the West. In fact, from what I have seen so far, it seems like this comment is embedded within the larger scope of the show—that the world is a playground for Americans. And although the teams go to countries where it may be easier to get around because people speak English (New Zealand, Canada, etc. etc), it seems that the show likes to take them to places where it is more difficult for Americans to get around in order to give contestants a "challenge." But, what ends up happening is that the contestants just get angry at all the people who will not help them.
More complicated than the egregiousness of the colonizing comment, though, is the second sentence, where he calls time into the conversation. In the academy, I've learned about the idea that our notion of time is Eurocentric, and that there is a need to decolonize time. And while I have always felt that I didn't fully understand the nuances of this concept, boy, did this comment really help me hone in on what this entails. Dave was literally transposing his sense of urgency for a capitalist's dream ("We are in a race for a million dollars!") onto the people and language of Thailand. This is quite literally racial capitalism at work—the labor of the Global South being given in order to further an outsider's fain in the West.
I am also unsympathetic to the fact that this aired 20 years ago. And I think that this speaks to this need to decolonize time and extract it from a Eurocentric model. The context of "2002" does not make the actions of The Amazing Race contestants any less vicious. In fact, I think it says something that, 18 years and 30 seasons later, this show is still on the air.
Item(s) of note.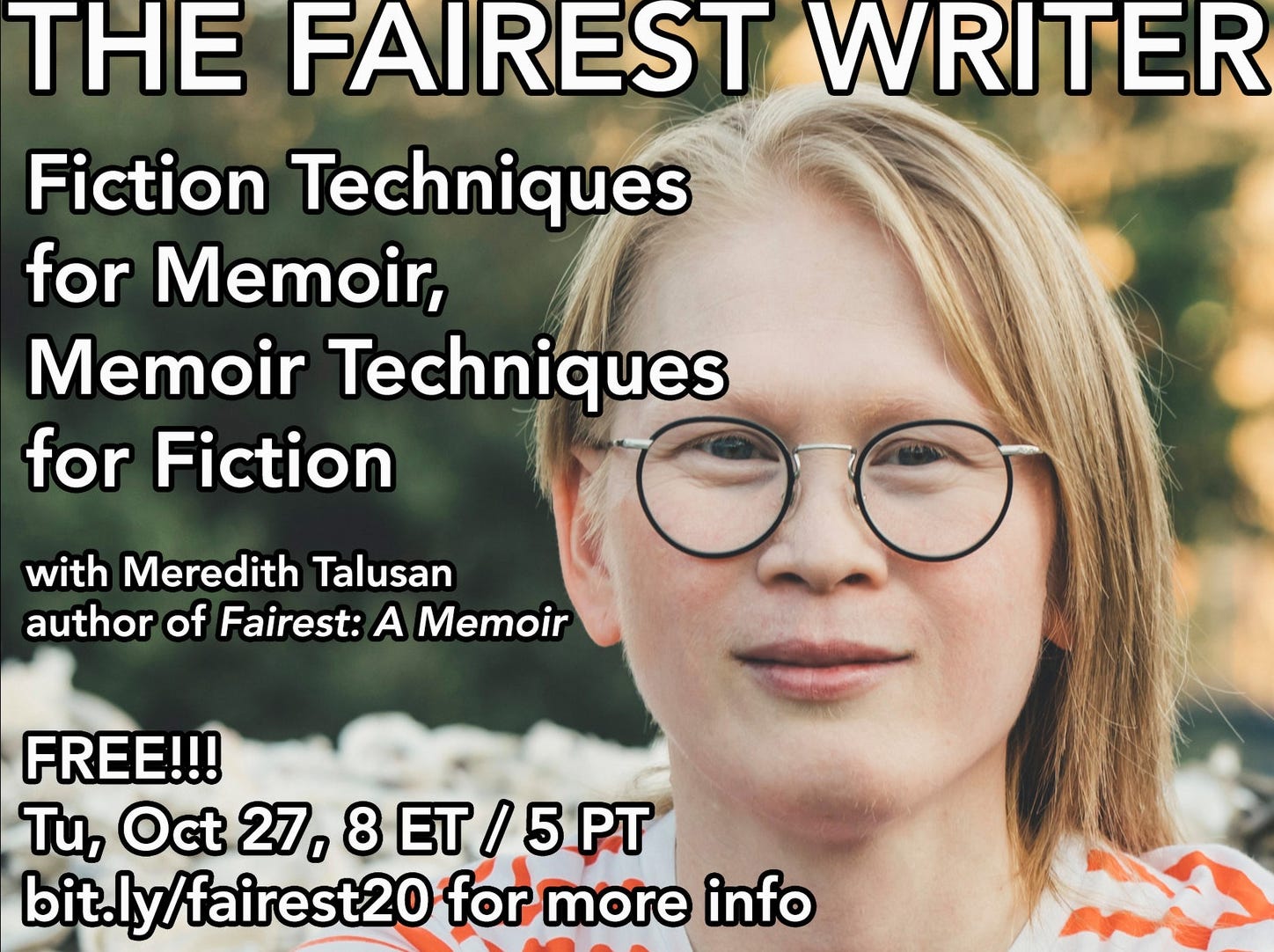 Meredith Talusan, a writer I greatly admire, is on Substack! With free writing workshops!

The Pedagogy of Revolution from the Liberation Pedagogy Podcast (from Sara A.)
Have something you'd like to share? Let me know by replying to this email or leaving a comment!
A pup-date.
When Girlie runs, she looks like she is part dingo, part flying squirrel.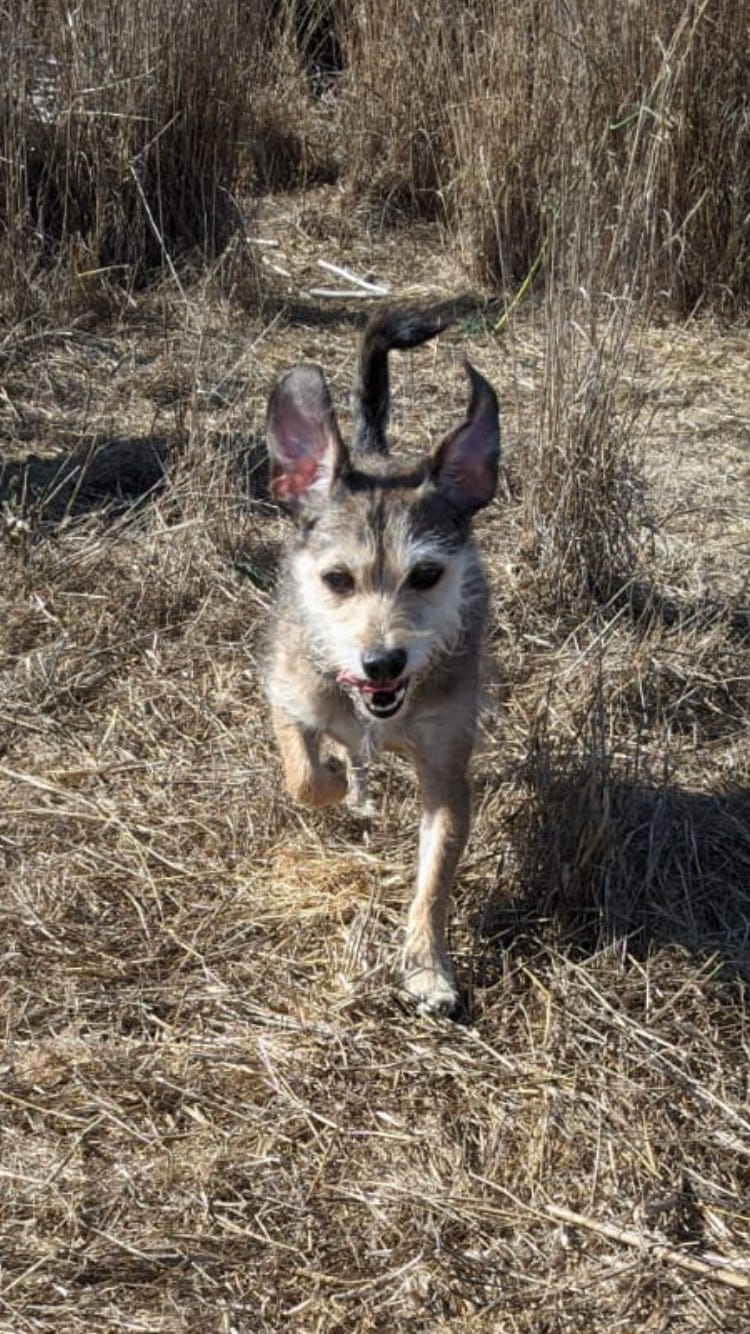 As always, thanks so much for reading through, and I'll see you in the next one!
Warmly,
Ida
---
tiny driver is maintained & written by me during my free time. If you find the newsletter joyful and/or useful, consider supporting me & my work so I can invest more into the future of the newsletter!
Right now, there are two ways to support tiny driver:
You can buy books through the 
tiny driver Bookshop
! With each purchase made from the books in my "shop" (as well as what I link to in the newsletter), a small portion of the purchase is given to tiny driver through Bookshop's affiliate program.
---
Know someone who might like tiny driver? Feel free to share!