17. tarot pull (asian am style) for our future world
thinking about the coming week & community
Hi there! 👋 I'm Ida, and this is tiny driver, a newsletter about research, pedagogy, culture and their intersections. Thank you for being here. Reply anytime, I love hearing from you.
I start with this email/tweet from Kyla Wazana Tompkins (who has her own Substack, if you were wondering) because it was the thing that made me stop my "doomscrolling" this weekend.
As I've said before, I feel very fortunate that I did not start teaching this quarter—between moving to a new city and a new institution in the midst of a pandemic, it was just enough to get my bearings for the past few months. But it is also bittersweet not to teach during this particular time—one that is so critical to the future of our country. On the one hand, no matter what happens tomorrow (or in the weeks that follow), I will already have trouble processing—let alone trying to facilitate a classroom that, invariably, due to the subjects I teach, will speak directly to the political, social and economic issues that are at stake with the upcoming election. And on the other hand, now more than ever, I wish I were facilitating a course, just to be in community and provide a space of collective gathering & solidarity no matter the outcome.
I remember teaching in 2016 the Friday after the elections. At the time, I was a TA for an "Intro to Ethnic Studies" course, and I (like many) was devastated and terrified. I remember being in the library, tears welling up in front of my computer as I was trying to study for my qualifying exams a mere two weeks away. I remember worrying for the future. I remember anger.
But I also remember walking into discussion sections on Friday and giving students three options for the hour ahead: (1) go ahead with the course content as planned, (2) talk about the election + student concerns, or (3) listen to Hari Kondabolu's comedy album Waiting for 2042 (2014). Both my sections chose option (3)—which I, myself, was deeply thankful for.
Although we only exchanged looks, laughter and tears, that class time was very much needed by us all. And the sections more broadly were all the better for it as we moved forward in the semester. It showed my students that I, too, was angry and hurt and confused and disappointed in our country. It showed my students that it's ok to take time and process in whatever way feels right—that these emotions are a driver for doing the kind of work that Ethnic Studies takes up. It showed my students that in thinking about these things and fighting for change and believing in our world's ability to be better, we are building futures that make room for us all. This rest and catharsis inspired them to collectively re-invest in the course and its objectives. It reminded me of all these things, too.
Many of you reading this newsletter are my dear friends, ones I know in real life and used to be able to hug on the regular. There is also a growing number of you who I may not know IRL, but who I consider part of my community nonetheless. In taking up the words of Professor Tompkins above, "whatever I can do to uphold your involvement in civic process, let me know." I extend this sentiment to you all.
On Tuesday, I'll be re-listening to Waiting for 2042 as I, in turn, dream of a better world. Feel free to join me, if you'd like, and let me know how you're feeling as well. Let's be in community together.
What I write.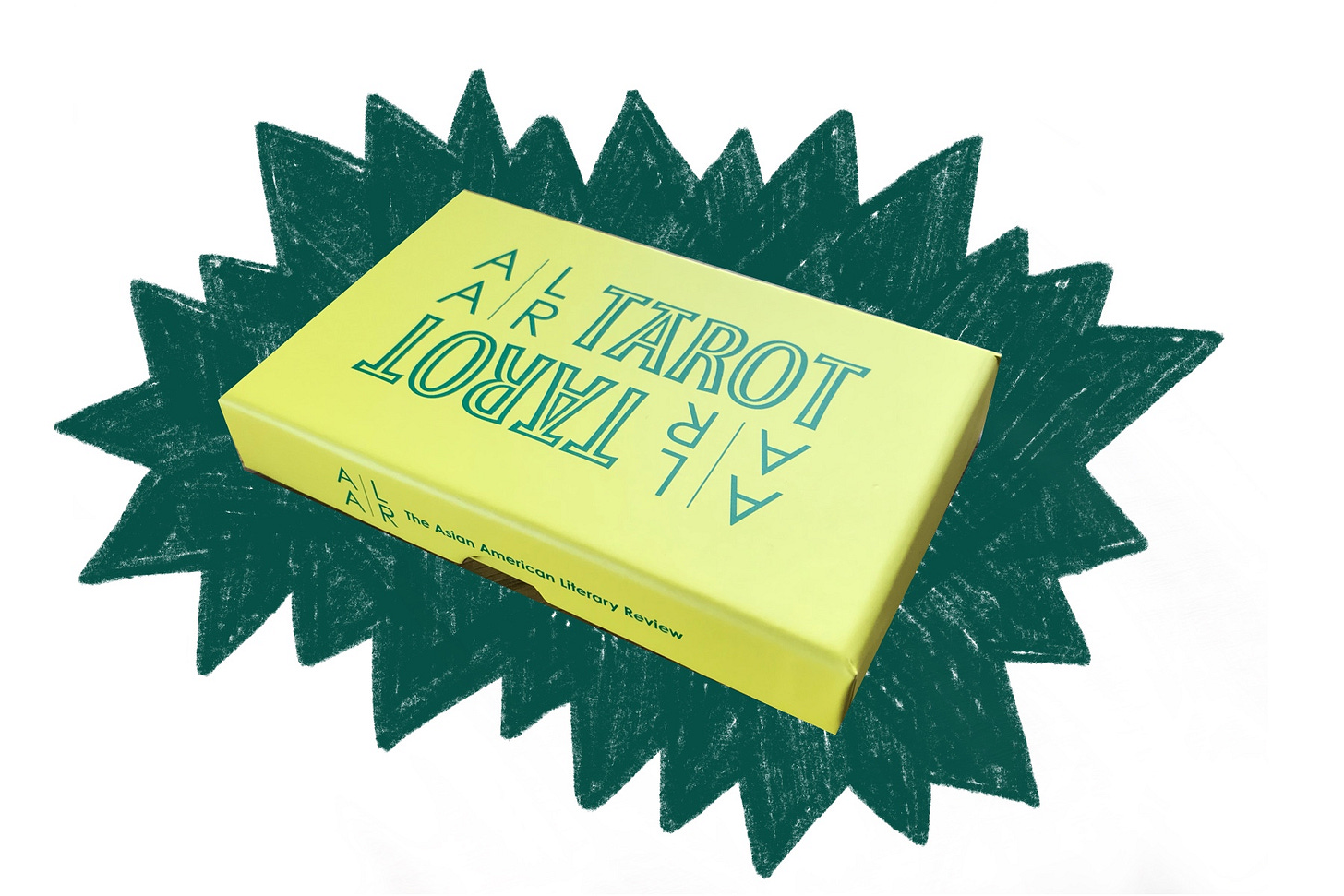 For this week, I'm going to take a break from the regularly scheduled programming in order to do something a little different. I recently received my copy of the Asian American Literary Review's Tarot Deck (v.2) and it's absolutely beautiful. Unlike other tarot decks, this one is sort of a riff on the traditional tarot from an Asian American lens. All the cards are part of a major arcana, and they move beyond the traditional figures to assemble archetypes that—as the website states—"[trace] the invisible contours of Asian American life." Sure, the deck still has "The Lovers" and "Death," but it also features cards like "The Refugee," "The Ocean" and "The Adoptee."
In just a moment, I'm going to do a pull. Just one card, with the intention of it speaking to the "future of our world." Granted, that's a bit daunting, so maybe I'll just leave it to the "future of my world," but nonetheless, I'm hoping it'll give me (and hopefully you) some grounding for the days that follow this one.
death.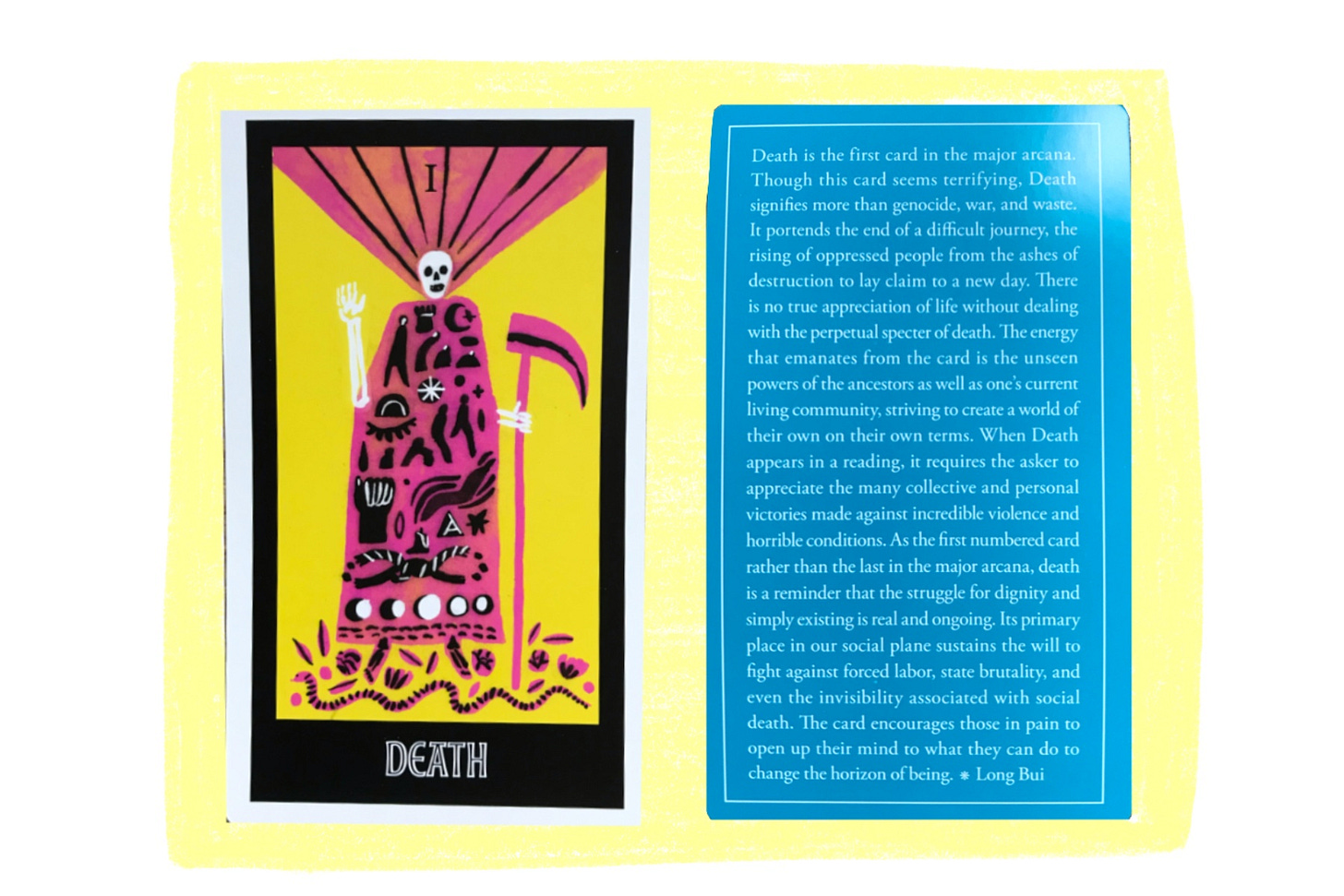 The energy that emanates from the card is the unseen powers of the ancestors as well as one's current living community, striving to create a world of their own on their own terms...The card encourages those in pain to open up their mind to what they can do to change the horizon of being.
I swear I shuffled the deck & closed my eyes when I pulled this card. And yet, it rings so true to the present that it feels as though I picked it on purpose. (Further proof of my witchy powers!!)
This is one of the few cards in the AALR deck that also is found in traditional tarot. Much like in this deck, the traditional archetype signals a time of change and the clearing away to allow new life to emerge.
So much of this year has been shrouded in death, literally & metaphorically. That is absolutely certain. It came when were not ready and it continues to stay. This death is too real and continues to be mourned by us. The image of the skeleton with his scythe says as much.
But there's more going on, here. The skeleton stands above a snake, meant to symbolize renewal in tarot (the shedding of skin), and seems (dare I say) warm in his greeting to us. His cloak is not black, but pink, and in it are symbols that speak to our ancestors and the rituals of life: a closed eye shedding tears, a fist, the moon cycle, a double-helix. It reminds us that death, too, is a part of the process of living and brings with it a deeper connection to the past.
For me, this card emanates hope. This card is a reminder that in death, there comes a way to move forward—that the path before was arduous and is close to its end. It reminds me how much I (we) have gone through in these past four years, how much destruction has occurred, how much has been laid to waste, how much potential has been lost. But it also reminds me that this can mark a new beginning and to forge new paths forward. It gives us an opportunity to lay to rest the frameworks of knowledge and visions of the future that haven't been working for us in order to think curiously about how we can re-build. Our skin is strong and resilient, but of the earth. Let's move in a direction that brings us closer to connecting this strength with what feels natural.
I am ready to greet the death of these past few years. I am ready to move forward.
I'd truly love to hear what you think about the card above, either for you personally or for a collective. Please—if you feel so moved—feel free to let me know privately by replying directly from this email or publicly letting me know by leaving a comment.
What I consume.
In the Bookshop:
Currently Reading: Luster by Raven Leilani
On Deck: The Vanishing Half by Brit Bennett
Item(s) of note.
A pup-date.
I love when Higgins sleeps in this shape. He looks like a little bread loaf.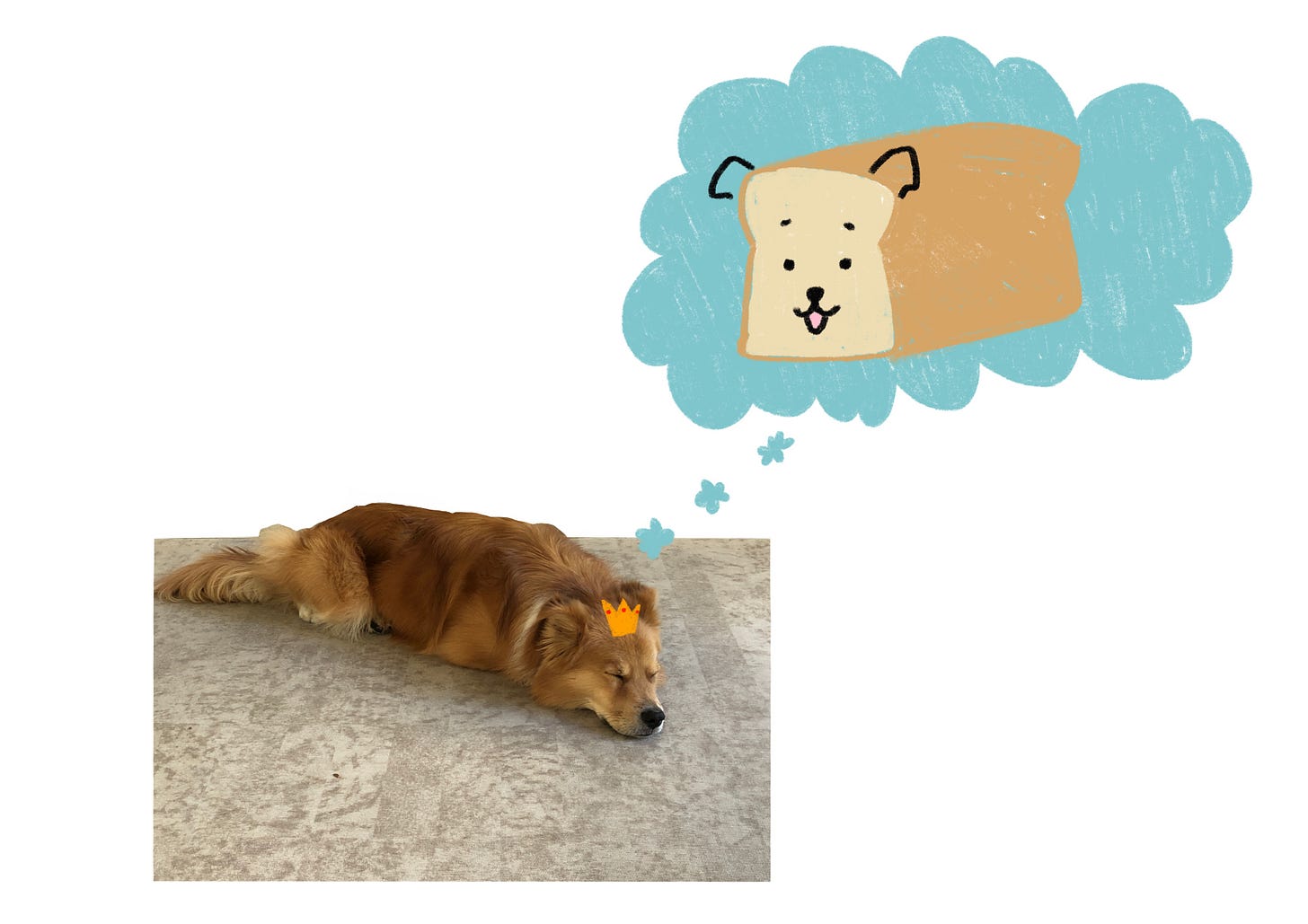 As always, thanks so much for reading through, and I'll see you in the next one.
Warmly,
Ida
---
tiny driver is maintained & written by me during my free time. If you find the newsletter joyful and/or useful, consider supporting me & my work so I can invest more into the future of the newsletter!
Right now, there are two ways to support tiny driver:
You can buy books through the
tiny driver Bookshop
! With each purchase made from the books in my "shop" (as well as what I link to in the newsletter), a small portion of the purchase is given to tiny driver through Bookshop's affiliate program.
---
Know someone who might like tiny driver? Feel free to share!