Discover more from tiny driver
a weekly newsletter about writing and reading in the interdisciplinary humanities
2. junior high needs you!
thinking about anti-black racism in the swana community, digital projects for teaching, and junior high la
Hi there! I'm Ida, and this is tiny driver, a newsletter about research, pedagogy, culture and their intersections. Thank you for being here. Reply anytime, I love hearing from you.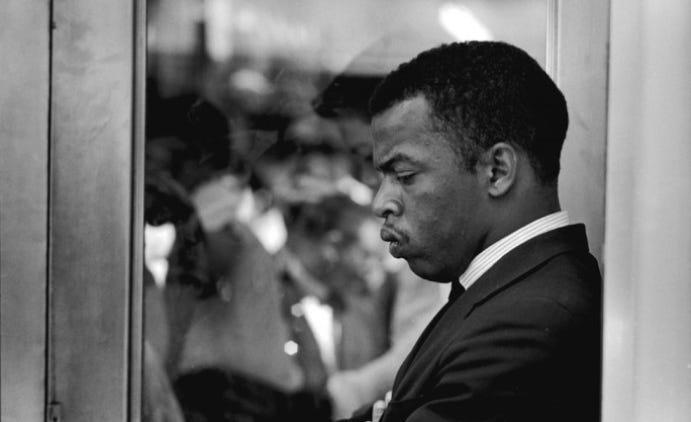 Rest in power, John Lewis.
Last week just flew right by—I can't believe it's already Monday and that we are about halfway through the summer months. This week's newsletter features items that involve the digital, as well as a way to help a local LA community organization that has and continues to do amazing work for BIPOC and queer art communities.
What I write.
I am currently reflecting on a webinar series that I've been watching for the past two weeks: "Webinar Series: Anti-Black Racism In SWANA + Diaspora." Here's a little about the series from the organizers:
Panels in Arabic, English, and Farsi will address the history, present, and future of joint struggles between Black and non-Black South West Asian and North African  communities, as well as solidarities and coalitions between SWANA  communities and Black American communities in the United States. The series will also interrogate anti-Black racism in the SWANA region and its diasporas, and acknowledges the ways in which the SWANA communities have contributed to, profited from, and perpetuated forms of anti-Black racism and violence, while being subjected to anti-Arab, anti-Iranian, and anti-Muslim violence both locally and globally.
Given my investment in the sustained movement for Black lives and the drive in my own work to acknowledge and be aware of diverse perspectives in the Iranian diasporic experience, I signed up for the English and Farsi discussions. I first attended the English event on July 10, and it really was an important conversation to have in the SWANA community. (You can watch a recording of the conversation here.) The panel composed of scholars and activists talked about the erasure of the black experience within SWANA and diasporic communities, as well as how blackness is not only a Western experience—that it exists within SWANA communities as well. Even more informative and transformative was the discussion that happened this past Friday in the Persian language (recording here). This conversation had panelists Priscillia Kounkou-Hoveyda and Alex Eskandarkhah who spoke from their perspective occupying a Black and Iranian identity both in and outside of Iran. While the conversation touched on racial identity, national consciousness, and the Aryan myth, I think there were two very important points that were made which I'm thinking about further (also I'll be paraphrasing here because it has definitely been a minute since I've done verbatim translations):
The point was made that within Iranian consciousness, Black Iranians do not exist, even though they are very much present in Iran. There is no representation of Black Iranians in the media or in history books, and so they do not have a voice within societal issues. So, when one sees a Black person in Iran, they think that person cannot be "Iranian." As a result, Black Iranians within the national consciousness are read as foreigners. This point is so critical, and somewhat reminds me of the image of the perpetual foreigner that gets read onto Asian Americans within the United States. Of course there are differences between the two experiences, but it was one connection that I made while listening to the panelists speak.

Another important point was about how the model minority myth does and does not stick to different Iranians. I write about the model minority myth in my own work on the Iranian diaspora in the United States, particularly the way in which socioeconomic status plays into the ways in which Iranians claim a proximity to whiteness through the model minority identity. What I have not considered, though, is the way in which the myth sticks to certain Iranians and not others. Iranians who are not Black have a choice to occupy a model minority status and not to engage in racial politics. The idea of the model minority, however, does not exist for Black Iranians in the United States. Non-Black Iranians (myself included) have a choice and a privilege in that choice, whereas Black Iranians do not have a choice. As Alex said, he wakes up, and he is Black and Iranian. He therefore must engage with racial politics because he is not only Iranian, but also Black.
These conversations continue to stay with me, and will definitely inform the way I ask research questions and think through experiences of the Iranian diaspora in the United States. I am extremely grateful to the panelists for sharing their experiences online, and the moderator Sima Shakhsari was great at facilitating both conversations. (I am also a fan of their academic work—I highly recommend Shakhsari's article "From Homoerotics of Exile to Homopolitics of Diaspora: Cyberspace, the War on Terror, and the Hypervisible Iranian Queer.")
To register for the upcoming webinar in the Arabic language this Friday at 11AM Central/12PM Eastern, click here. Also, if you or someone in your life (e.g. your parents, colleagues, etc.) would benefit from this conversation and its accessibility in other languages, feel free to share.
What I teach.
Last week I had exactly one zoom meeting, and it was with Josh Honn (NU's Digital Librarian) and CA Davis (Digital Storyteller and Producer at NU's Media and Design Studio) to discuss the final project for my Spring course on "US Media Representations of the Middle East." As I have been creating my syllabi for my courses next year, I have been interested in moving away from the final as research paper. Instead, I want to be able to maintain similar learning objectives while asking students to produce a piece of work that can be accessible to and enjoyed by a larger public.
To that end, I have been thinking about an appropriate final project for this upper level seminar. As I've written it, in this course we will "explore the evolving ways in which the Middle East is visually represented in the United States from the mid-twentieth century to the present, post-9/11 era." There are readings that span critical theory, visual culture, historical analysis, and I'll also be having them watch a film or TV episode at least once a week. The course's main learning objectives are (1) to have students learn how to do a close reading of an image or scene, and (2) to combine close readings into evidence that supports an argument about how the Middle East and/or Middle Easterners are represented in U.S. media. So I'm thinking, why not have students make a podcast recapping a movie or TV episode of their choice?
This thought is probably 60% based off of the fact that I love these kinds of podcasts—you know, the kind where friends get together and talk about something they watched, rehashing the whole thing and picking out different things that just seemed to jump out. (Think Gilmore Guys [lol] or How Did This Get Made.) I feel like if students made podcast episodes in groups of 2 or 3, they would be able to maintain an easy, conversational tone while still performing close reading analyses of their source. I'm still working on how I'd develop a rubric for this kind of project, so if you all have any insight or resources, feel free to reply to this email or leave a comment with them!
At the meeting, we discussed my goals for the project, as well as its logistics given the fact that we have no idea what will be happening in the spring when I teach the course (Will it be online? In person? Hybrid? Only time will tell.) So right now, my task is to come up with some plan A/B/C scenarios for what to do in each instance. I do want to make sure that the requirements meet students where they're at and can still be done with the resources they would have if they were to be off campus, but I also want to make sure that they are doing their best to put out a product that they are proud of. I feel quite lucky to have Josh and CA as resources and guides in combining pedagogy with technology, and the fact that they're already engaging with my on my vision so far in advance of the course means so much.
What I consume.
I want to write about a little space of Los Angeles that has just been such a joy to learn about and grow from: Junior High. For those of you who don't know, I am originally from Los Angeles and go back often to be around family and see old friends. A couple of years ago, one of my childhood friends Christina told me about this LA arts and community space that she had learned about. I remember her saying how cool it looked on Instagram, that it was a queer space and that they had a calendar of events that looked amazing (workshops, book clubs, rock climbing, art exhibits & shows, etc. etc.). This is what the org says about itself on their website:
Junior High is a non-profit 501(c)3 dedicated to showcasing the artistic pursuits of marginalized voices. Junior High is run solely by volunteer labor, the goals of which are not monetary. Our space, publication, podcast, and other ventures function on principles of collective organizing, radical empathy, and anti-oppression.
The organization happened to have a pop-up vendor market in their space when I was in town, so I went. And it was wonderful. Yeah, the vendors themselves were pretty cool, but I remember walking into the space and it feeling so welcoming. The folks there were friendly and they all seemed to be part of this warm community. I felt such good energy that I ended up buying a t-shirt on my way out to support their work. I also got a Backstreet Boys vintage tee at the market because WHY NOT?!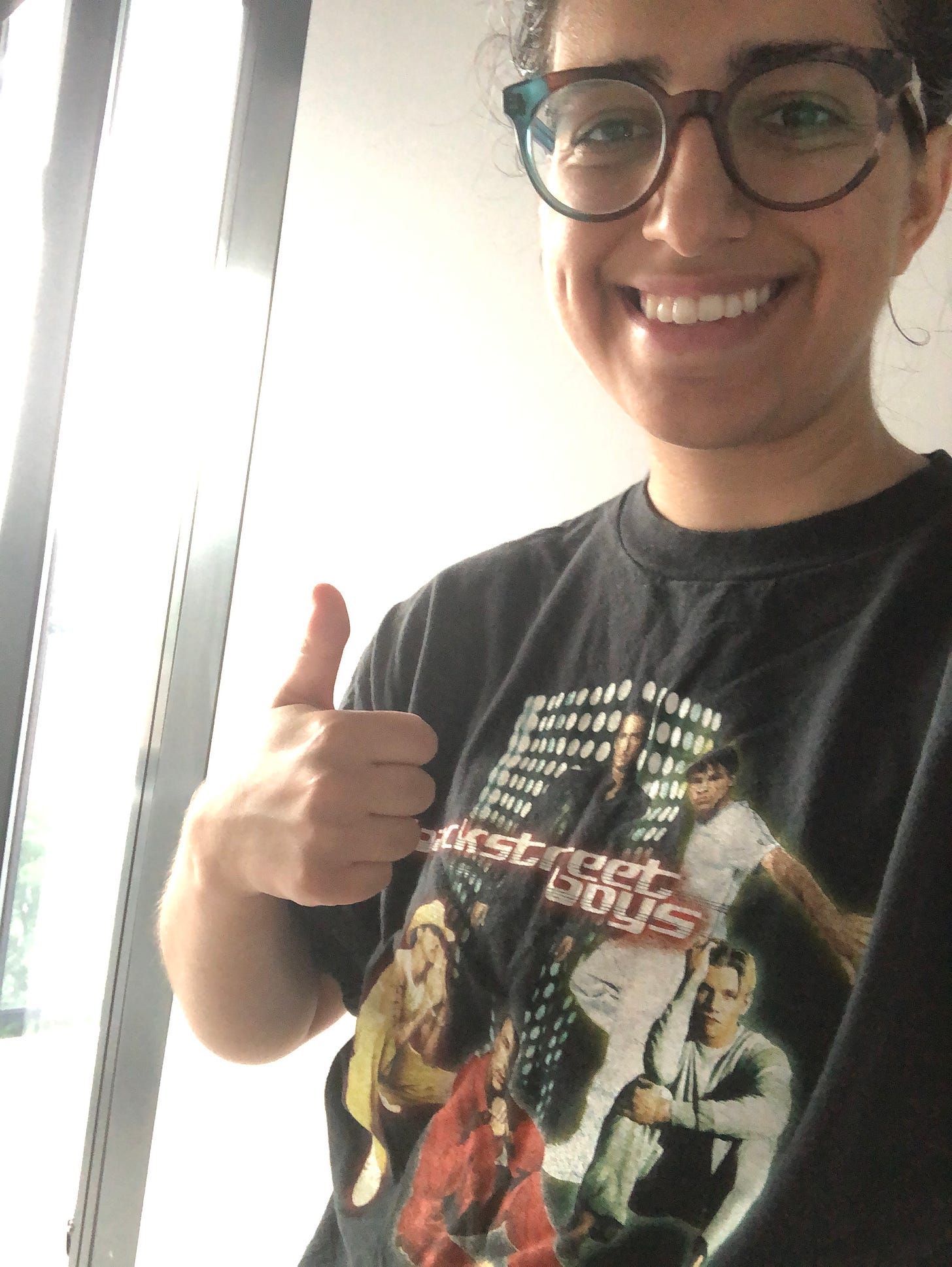 Since then, Christina has become more involved in working with Junior High, and I have kept up with them through their social media and newsletter "Thots & Prayers." They have and continue to create a space in which queer and BIPOC art is centered, and in turn, create community.
When COVID-19 happened, Junior High had to close their physical space (for obvious reasons) and move their work online. They are also affiliated with Not a Cult Media, an independent publishing house that been putting on some amazing online writing workshops these past few months, all of which I whole-heartedly recommend.
However, Junior High is in danger of closing its doors permanently due to the debt that has been accrued by rent during the pandemic. They have been forced to vacate their space and are going through the legalities of breaking their lease. While they have vacated their space on Hollywood Boulevard, they are determined to open their doors in another location once it's safe to do so.
This is where, my dear reader, I ask you to go check out their GoFundMe page, and make a donation if you're able to. They do such amazing work for the LA community (and also beyond the LA community). Financially backing this organization and allowing them to find a new physical home would mean continuing to support a space that creates community and a platform for marginalized voices in arts and culture.
A side note: the founder of Junior High, Faye Orlove, has a BEAUTIFUL tarot deck that she illustrated in her shop. All the major & minor arcana cards have a corresponding female celeb to represent the card, and they are accurate AF. Consider supporting her artistic work, too.
If you know someone who would love Junior High or love to financially support their work, feel free to share this as well.
Item(s) of note.
A pup-date (or two).
On Saturday, Higgins and Girlie got to go to the dog park. Girlie was very happy.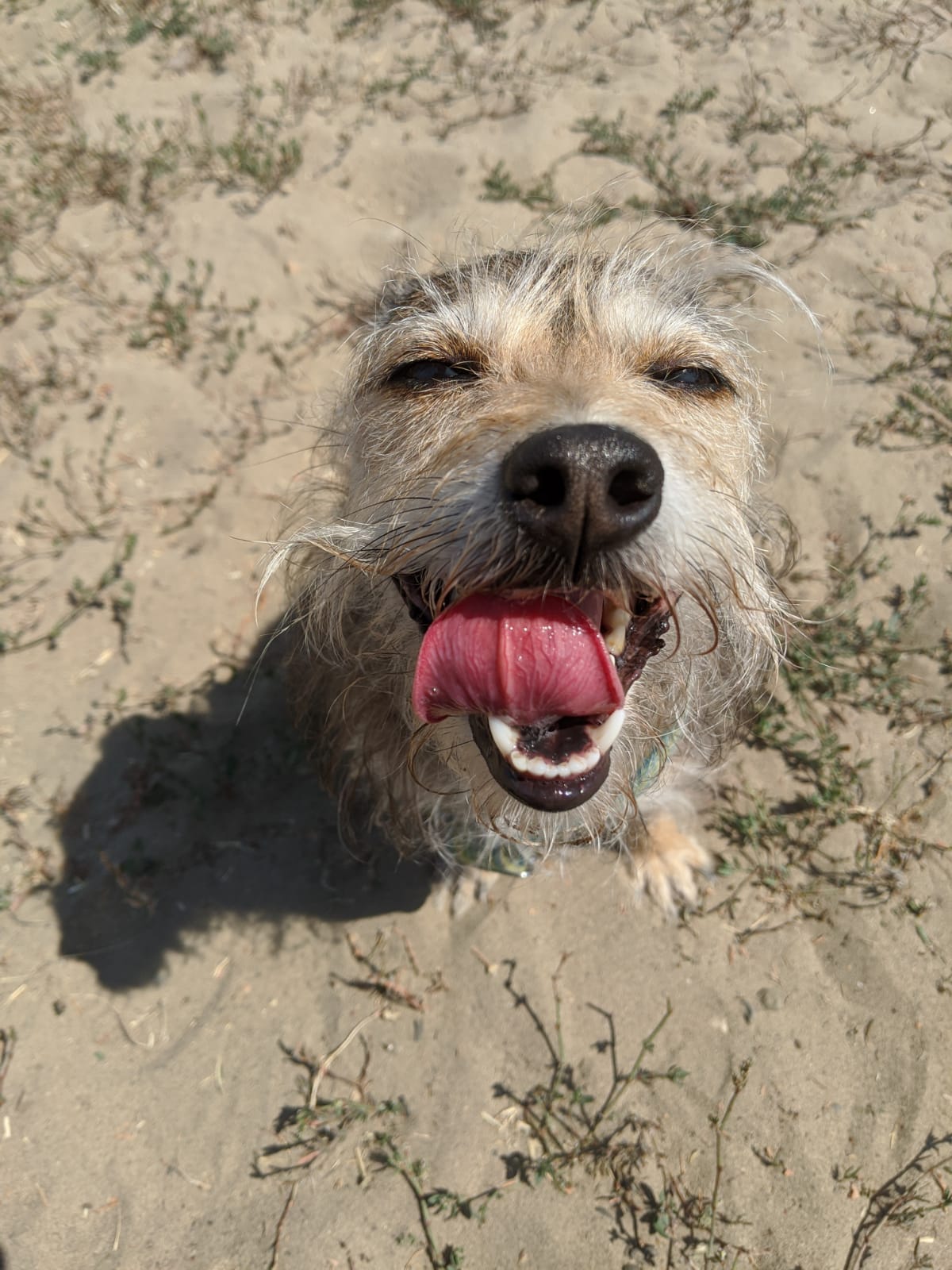 Then she got a little blueberry as a treat for being so good.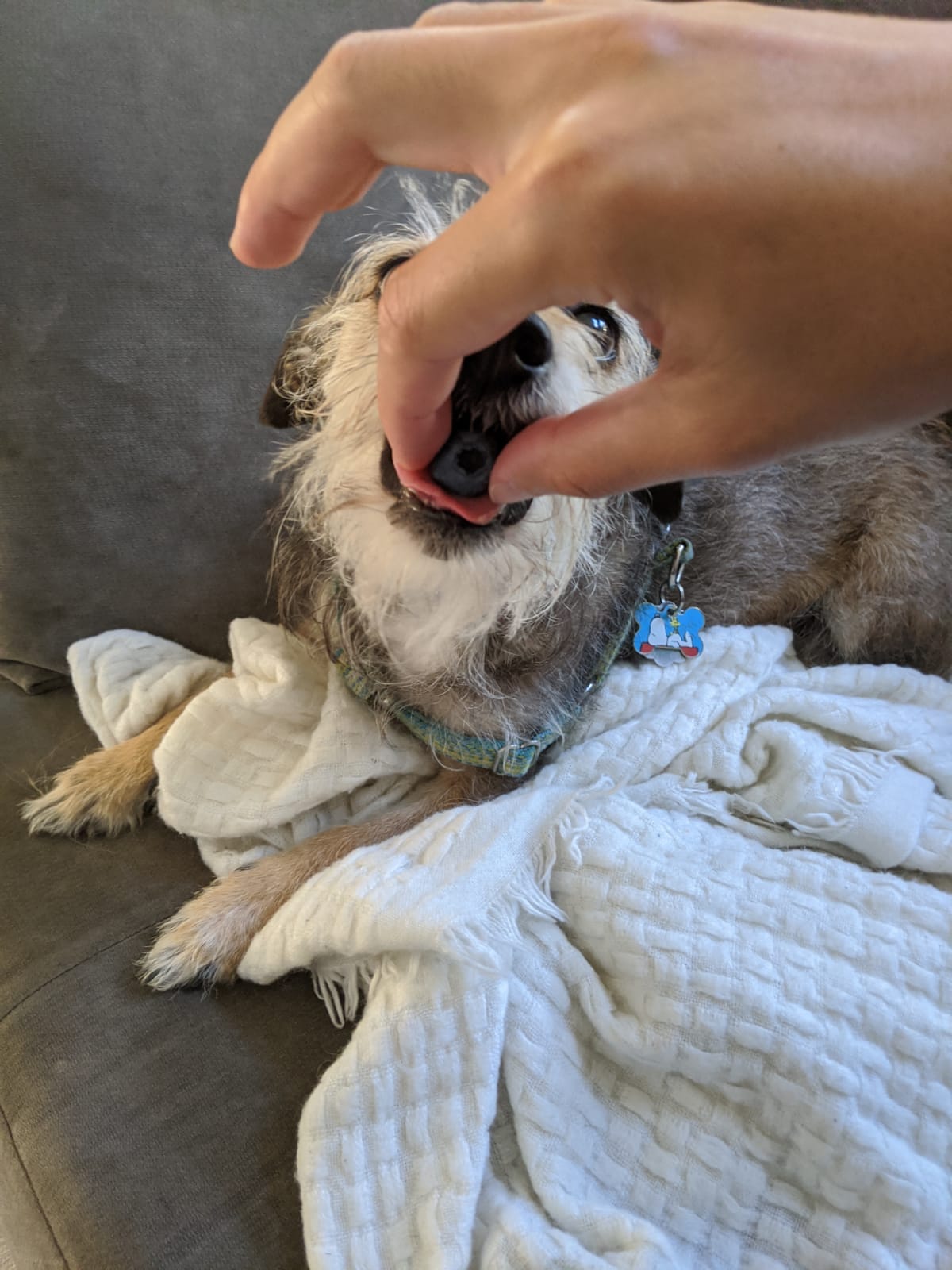 I'll leave you with Girlie as the final item. Thanks again for reading through, and I'll see you in the next one!
Warmly,
Ida