9. using food to honor family
thinking about writing my book proposal & Selena Gomez's new HBO show
Hi there! 👋 I'm Ida, and this is tiny driver, a newsletter about research, pedagogy, culture and their intersections. Thank you for being here. Reply anytime, I love hearing from you.
Soooo, I don't know if you all saw, but...
We are now at over 100 readers in the tiny driver community! When I started this a few months ago, I was mostly expecting my friends and colleagues to subscribe, just to keep up with me now that I am in a different city. But since then, the community has grown to include folks that I have not met IRL, and that is absolutely wild! My hope is to create a community of folks interested in thinking critically about research, pedagogy & culture. And who knows, maybe the more I write to you, the more you all will be compelled to write back to me.
Some of my favorite moments related to tiny driver are when folks reach out to me about something I've written or something they want to share. Please, keep the comments & feedback coming—it's always so nice to hear from you and think more about how I can create a space of learning and growth with this newsletter.
But mostly, thank you all so much for letting me into your inboxes every Monday morning. I know that email can be overwhelming, but I hope that this little line in your inbox makes you feel happy. Or, at least, not stressed.
What I write.
This quarter (aka the first academic quarter that I'm no ~longer a student~), my goal is to finish drafting a book proposal for my manuscript-in-progress. I am currently reading William Germano's From Dissertation to Book in order to prepare for revisions and writing the proposal. So far, it's been interesting to reflect on how the dissertation and the book satisfy two different objectives. My committee has always said to me that I should "write the dissertation like I'm writing the book." Although I had a vague notion of what that meant, I think it's really helpful to have a more concrete picture of the main points of revision that I need to keep in mind. I also watched this webinar from Ideas on Fire and thought that this table was one of the most valuable things from the presentation: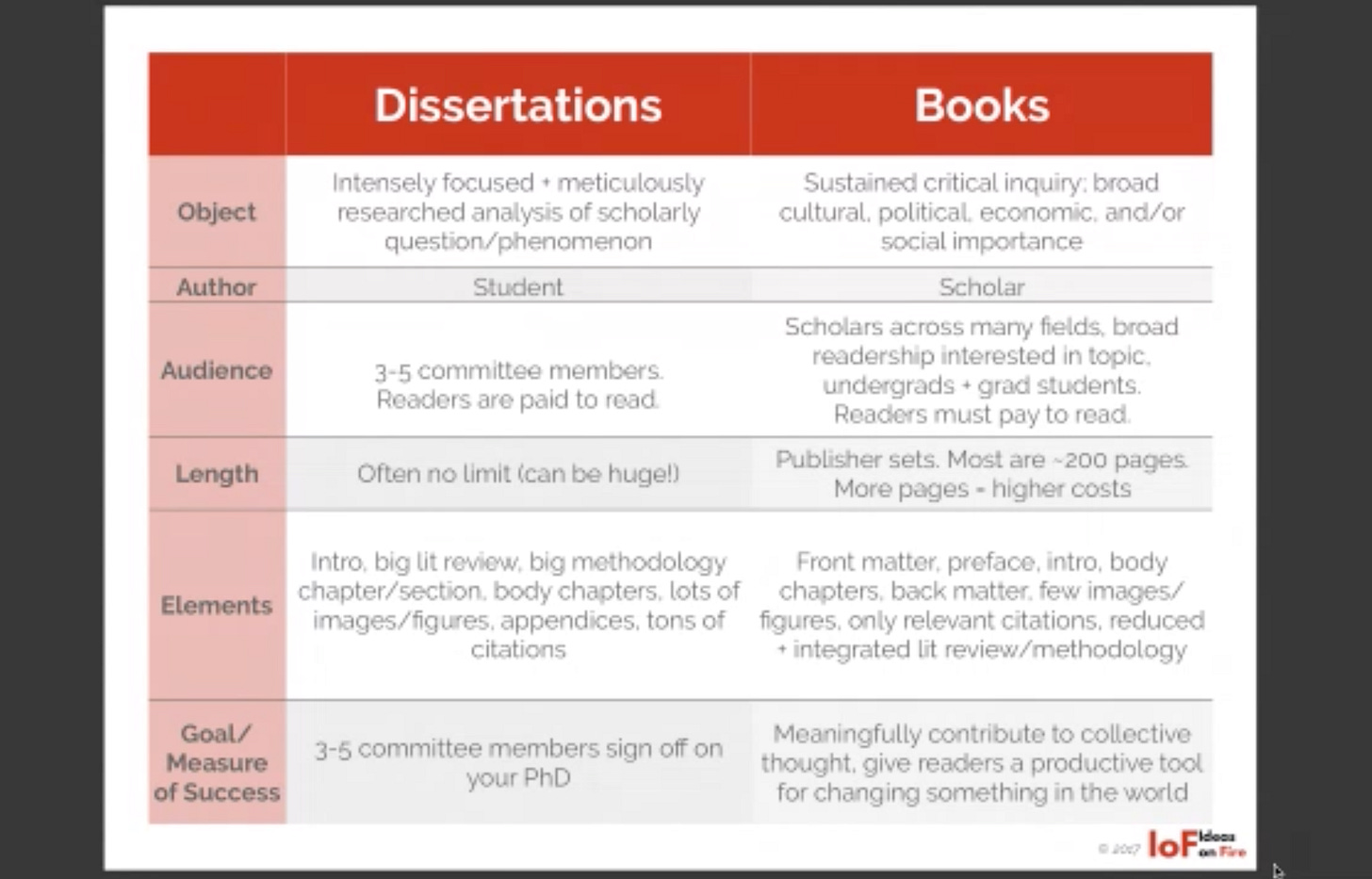 While I've been working this week, I took a page out of my friend Thamy A.'s book and tuned into some soothing train rides through the European countryside. She's been sharing this tactic on Instagram, and I immediately messaged her asking for more information. Much like Thamy, I used to get a lot of work done on public transport pre-pandemic, so it's been hard not to have that kind of calm workspace during the past few months. These videos have seemed to recoup some of that feeling of calmness for me, as the scenes and noises on the screen aren't looped but in real time. I highly recommend going on YouTube and putting "train ride soothing" into the search bar to see what you find.
What I teach.
For some, the semester or quarter has already begun, or will be starting this week. This year, I think we as instructors will continue to grapple with the emotional weight of the pandemic & current struggles for social justice—both for our students and for ourselves. Any chance that we can get to be transparent with our students about the reality of our current world may help to create a more comfortable environment in the virtual classroom.
At the beginning of her synchronous online sessions, my friend Kelly W. has students hold up their hand to their screen, asking them to show on a scale of 1 to 5 how they are feeling that day (1=not good at all, 5=great). This allows her to (1) acknowledge that it is ok not to be at full capacity and (2) gauge where her students are at so that she can make small changes in order to accommodate her students' bandwidth. Equally as important, I think, is the fact that she also participates in this exercise. Not only do her students get a sense of how she is coming to the session, but I also think that this humanizes instructors in a way, too. We all have off days when we cannot be fully present, and I think it's helpful for us and our students to recognize this too.
What I consume.
This week, I've been trying to find something to watch that's light, fun and soothing while I do administrative tasks in the evening. One night, I decided to try the new HBO Max show Selena + Chef, and it did not disappoint in its ability to thoroughly relax me. Here's essentially what it's about: Selena Gomez learns how to cook over Zoom* from some of LA's best chefs.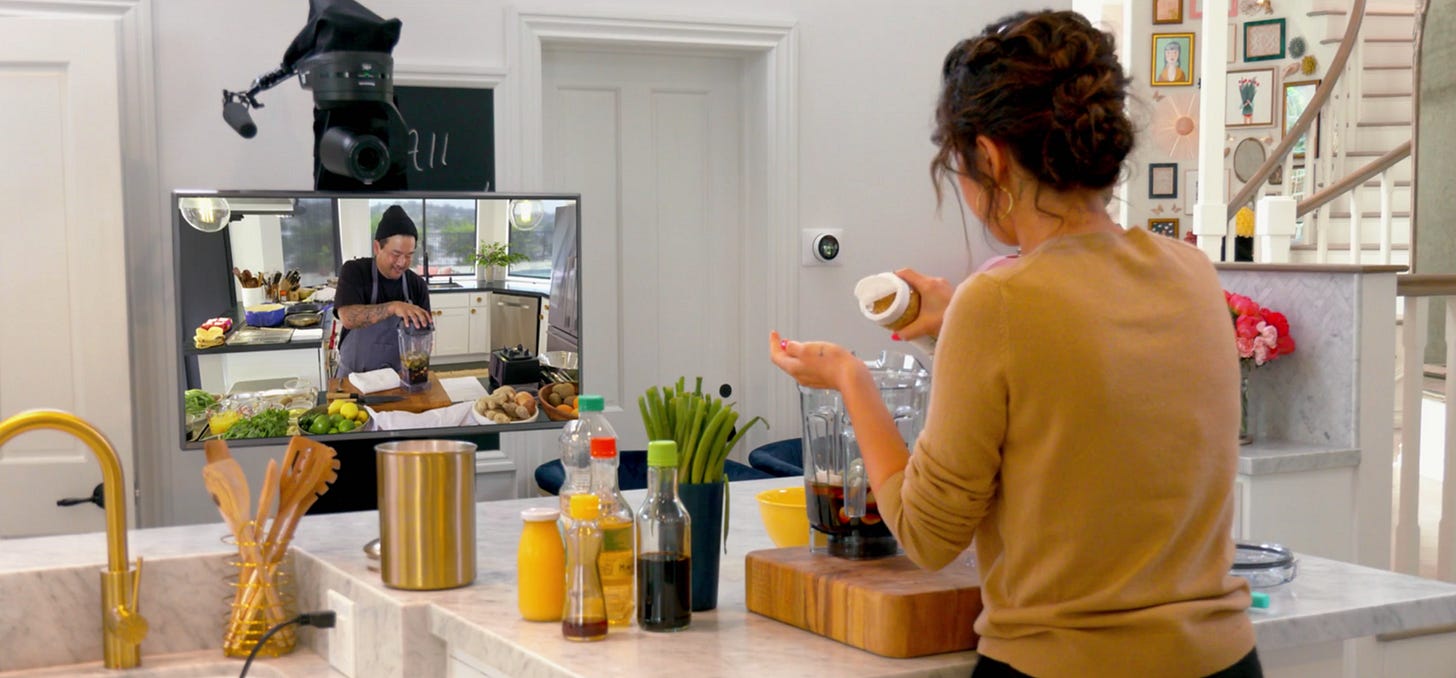 While I expected this show to just be something uncritically joyful, it did provide me with two moments of reflection that occurred during the episode with Roy Choi.
Roy teaches Selena to cook Korean BBQ breakfast tacos. As they are about to begin toasting tortillas in a pan, Selena mentions, "My grandmother taught me to do it straight on the stove." Roy, with a smile, replies, "Let's do it that way then. Let's honor your grandma, let's do it that way!"

Roy then teaches Selena how to cook Hawaiian malasadas (donuts) from biscuit dough. Her grandma watches her from the counter, and turns to the television where Roy is being projected into the room: "Roy! I grew up on these! My mom used to make these!" "The biscuit dough donuts?" "They were so good!" As Selena begins frying the dough, her grandmother says, "But see, when my mom would make them, she would cut the center out." And Roy replied, "Oh, let's honor your mom, let's do that!"
I'm sure you can see the similarity between the two moments; in both cases, Roy changes the method once he sees Selena and her family connecting with the food through their own experiences. These moments are small, but ones that I have yet to see happen with the other chefs featured. And I think the reason they happen in this episode is because of the fact that Choi is known for representing both his Korean heritage and the many diverse cultures found in LA. Food, for him, is less about mastering a series of steps, and more about connecting with culture through the shared memories of smell and taste. It's about honoring the way that family passes love down through food and sustenance. And I think this is what makes the Selena + Roy Choi episode so heartening to watch. Both build off one another's excitement in finding cultural & familial connection with the food, and in a sense, create an homage to Selena's own family tree.
The relationship between food and migration that is shown here is nothing new. Many scholars, like Tao Leigh Goffe and Heather Lee, incorporate food studies into their decolonizing praxis and scholarship. And others have created cultural products like zines that reflect on the relationship between food, home and belonging. But I thought it was interesting that HBO Max inadvertently spoke to the cultural significance of food through a show hosted by Selena Gomez.
Item(s) of note.
Some exciting news: tiny driver now has a profile on Bookshop!

For those of you who don't know about Bookshop.org, it's an online bookstore "with a mission to financially support local, independent bookstores." Rather than shopping on Amazon for books (both academic and non-academic), Bookshop has competitive book prices whose profits can go either to a specific bookstore of your choosing, or to an earnings pool that is evenly distributed among independent bookstores. In future newsletters, I'll be keeping you all updated on what I'm currently reading and what's on deck (in addition to any other book commentary) in order to promote the shop's work and share the reads that I'm currently loving.
Currently Reading: The Dragons, The Giant, the Women: A Memoir by Wayétu Moore
On Deck: Freshwater by Akwaeke Emezi
I also have a special section just for books that I reference in my zine and academic books I love in case you're curious. 📚👀
A pup-date.
To celebrate over 100 tiny driver readers, I give you the belly of Higgins.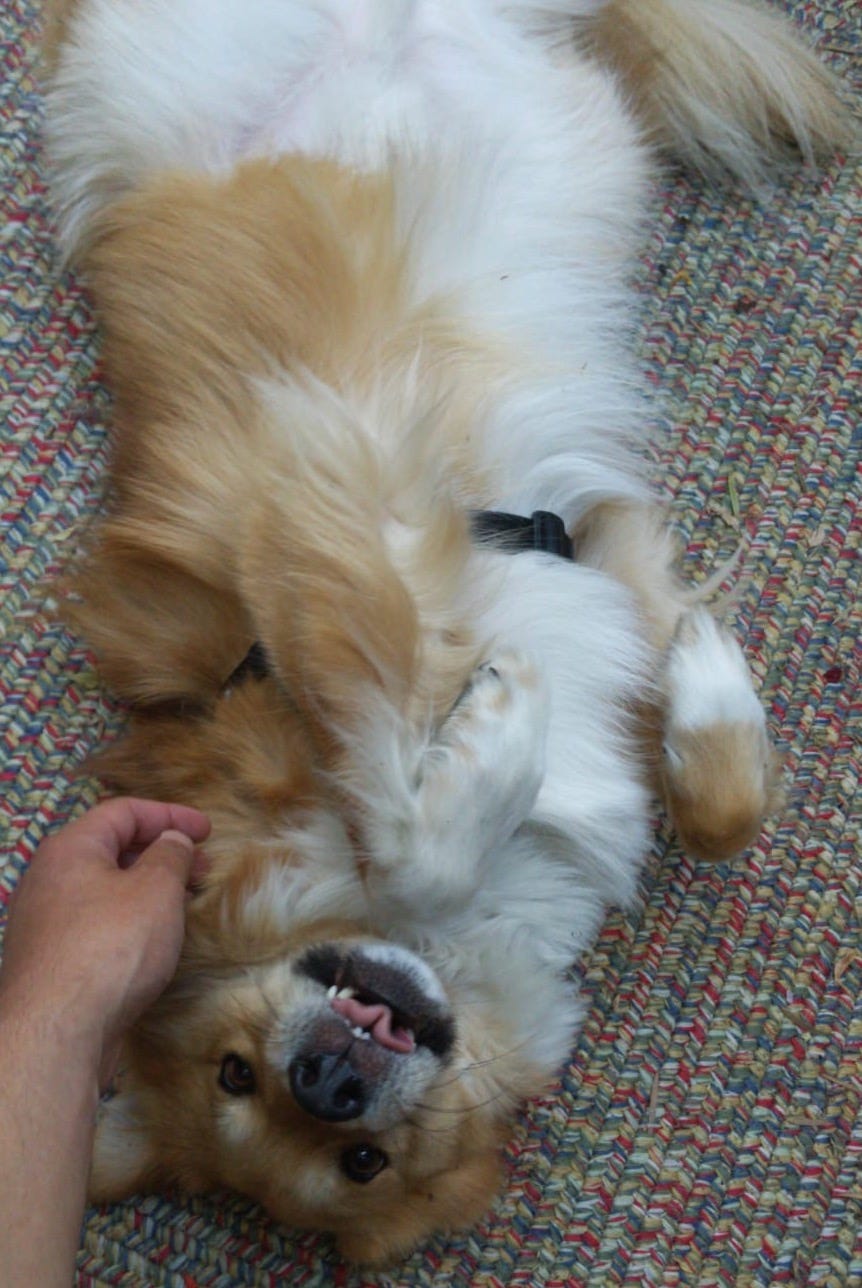 What a little fluff ball.
As always, thanks so much for reading though, and I'll see you in the next one!
Warmly,
Ida